Ready For A Beautiful, Healthy Smile You're Excited To Show Off?
A healthy smile that is brighter, straighter, and something you're proud to share with the world not only makes you look more attractive, but it helps you feel more attractive as well.
This, in turn, can boost your self-confidence, give you the courage to "put yourself out there", and create happy memories instead of regret over lost opportunities.
And thanks to the many cosmetic dentistry options available, your perfect smile is now a possibility!
A beautiful smile really does have the power to create positive, lasting change that can affect our entire life!
With the help of the skilled and compassionate doctors here at Triangle Family Dentistry, utilizing the latest in dental technology, the warm, engaging smile you've always dreamed of having is possible.
If you'd like to change the look of your mouth, teeth, and smile, reach out today to chat about the many options available.
From something as simple as improving the color of your teeth, to straightening a crooked smile, all the way up to doing a complete mouth reconstruction to replace your smile completely, we can help!
We Specialize in Smile Transformations!
How Can Cosmetic Dentistry Help Your Smile?
Cosmetic dentistry typically involves elective treatments focused on transforming the overall appearance of your smile. While it can solve a wide variety of smile issues, here's a list of ways it can help:
Would you like to change the size, shape, and alignment of certain teeth?
Do you have unattractive spaces between teeth you'd like to correct?
Does your bite need to be corrected or improved?
Do you want to lighten or brighten the color of your teeth?
Do you have teeth that are decayed, broken, cracked, or chipped?
Are you missing teeth you'd like to replace?
Would you like to replace old or unattractive dental treatments?
Whatever your situation, we have a cosmetic dentistry treatment option that will transform your smile into a thing of beauty!
Some of the available smile transformation options include:
What are you waiting for? Request a Virtual Consultation today and find out how cosmetic dentistry can give you the smile of your dreams!
Recent Cosmetic Dentistry Smile Transformations
Here's a small sample of some of the hundreds of successful patient transformations we've completed: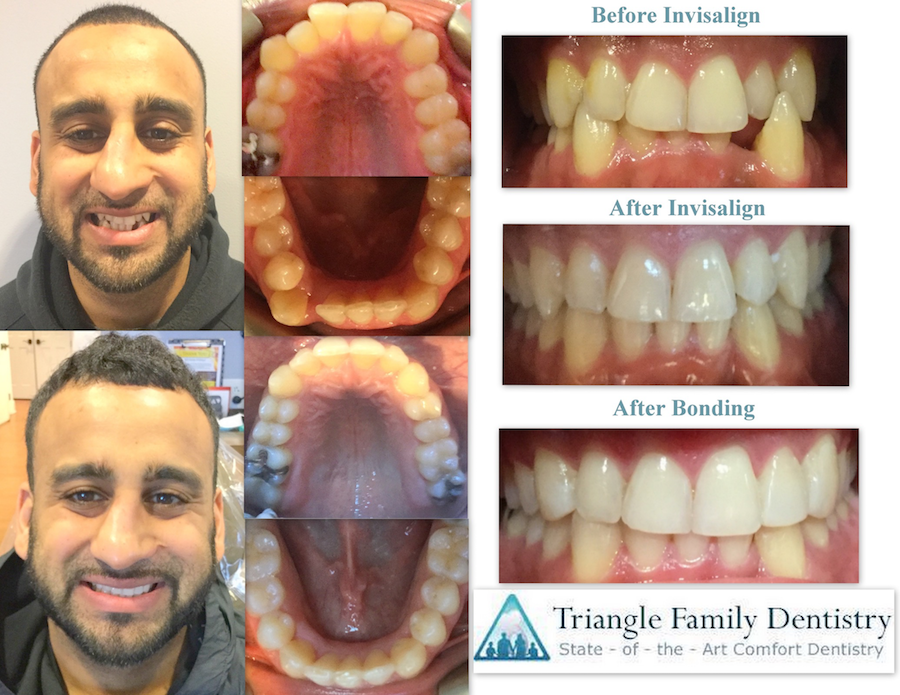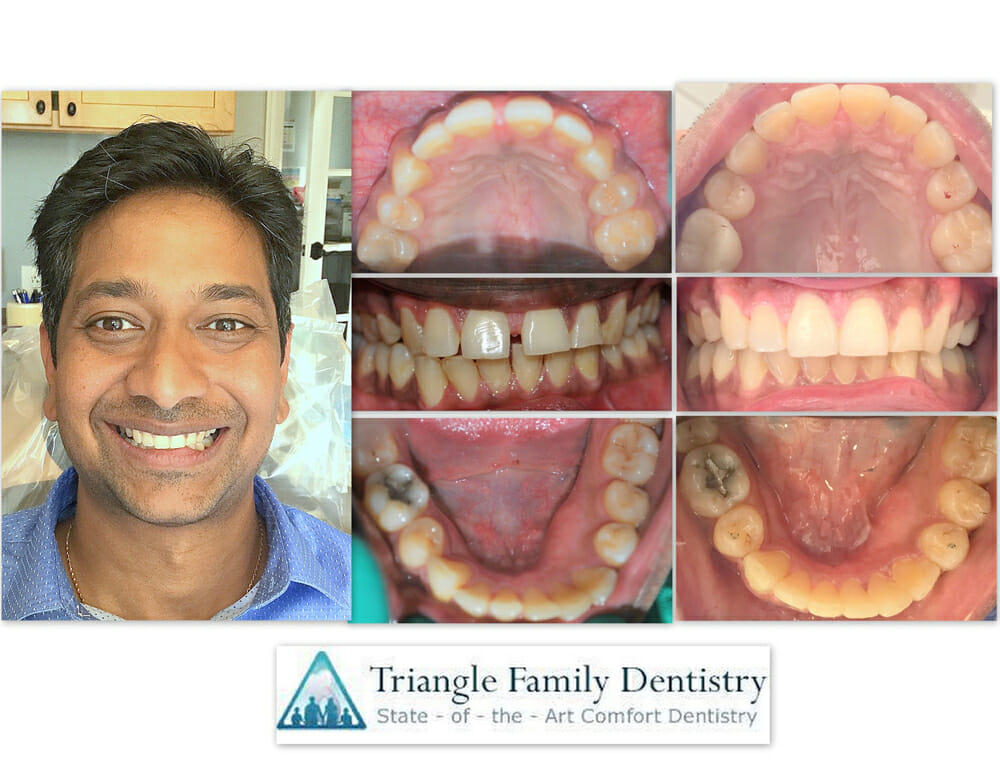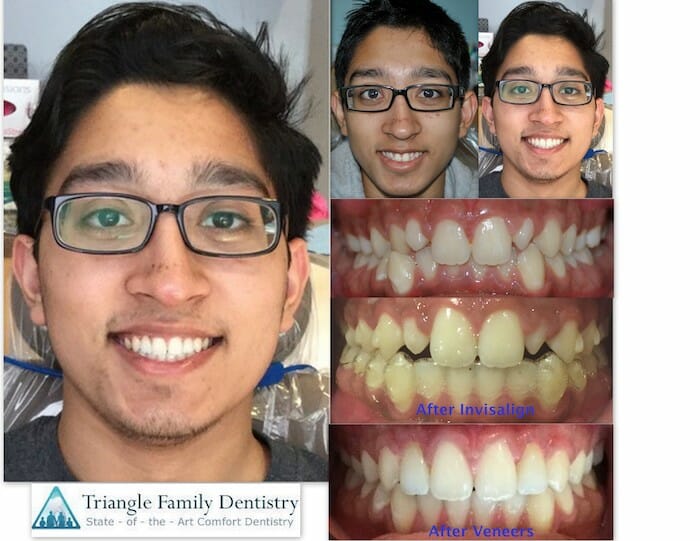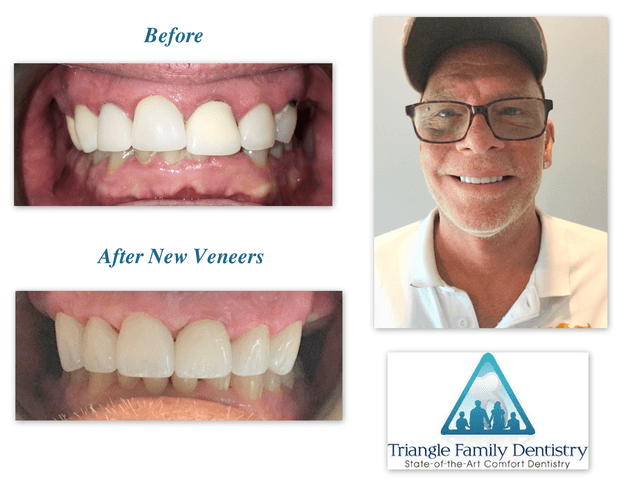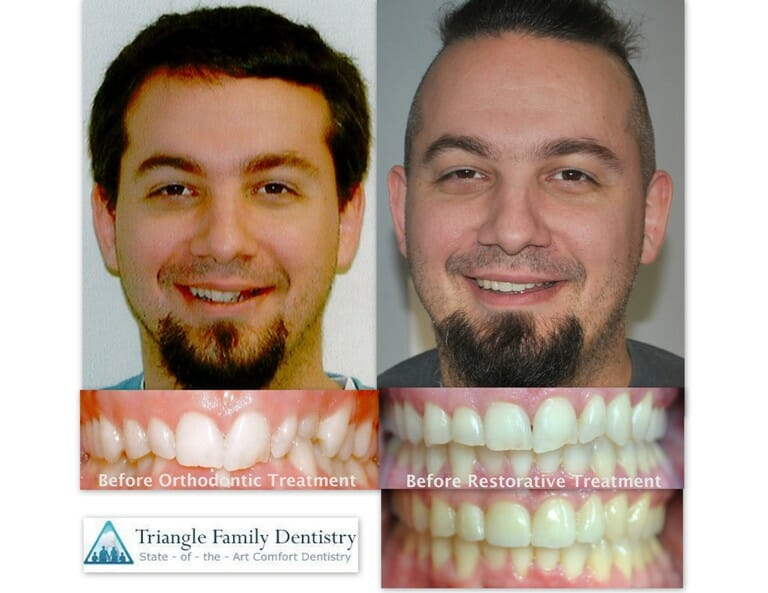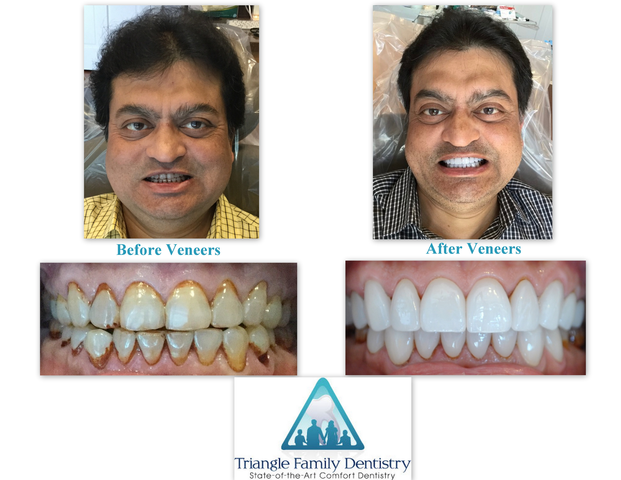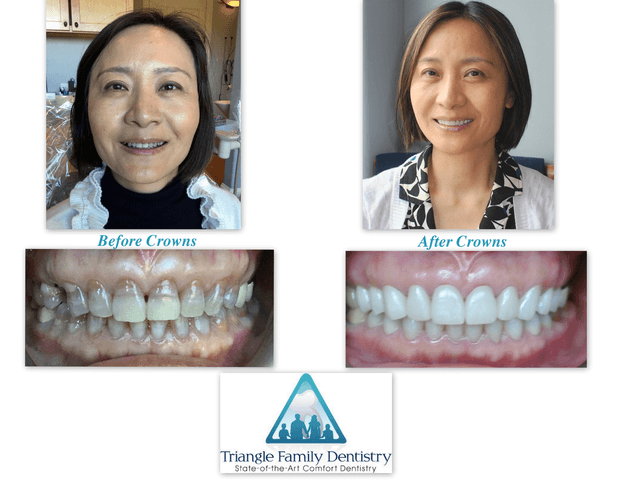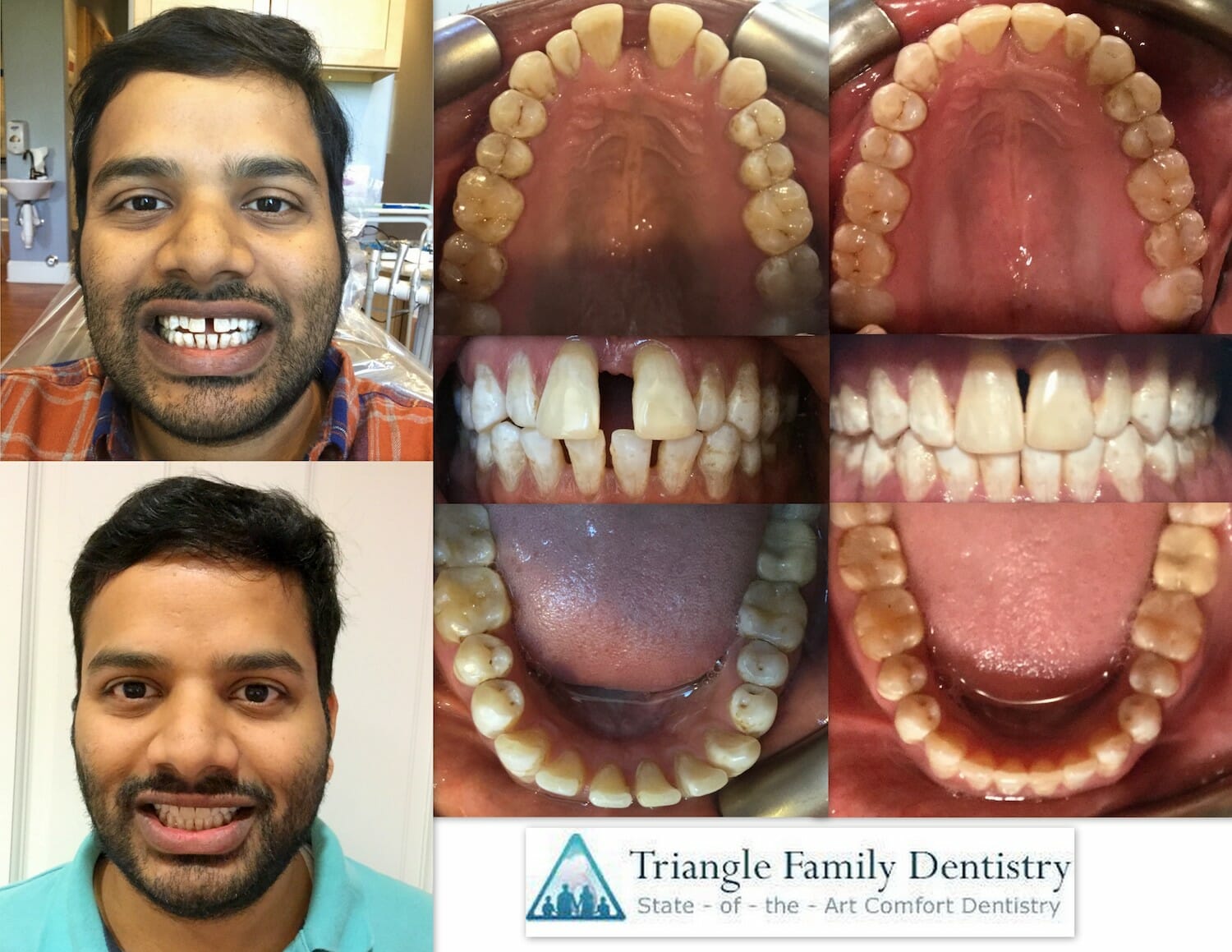 Read what some of our patients have said about their experience with Triangle Family Dentistry:
"Just moved to the area and broke a tooth. I called and they got me in right away. The staff was wonderful and Dr. Lee was great. I am very impressed from the moment I walked in.
I felt the mission of each staff member I encountered was to please the patient and it showed. I was even asked when I sat down what music I would like to hear.
Unfortunately, I needed a crown, it was scheduled within days and took less than 3 hours from start to finish, then returned for a cleaning. All within 1 week.
Very impressed and extremely happy to say I am a patient at Triangle Family Dentistry!"
"The staff here is wonderful! I have had about 6 visits here in the past year, from cleanings to 2 crowns.
Every hygienist, aide, and Dr. Barber have been extremely professional and knowledgeable.
You can tell how much they care and show concern for your comfort. They even make sure you are listening to your favorite music. Everything is explained in detail before they proceed and during each procedure."
"I love that they are on time for my appointments. All staff is super friendly and accommodating.
I was scared to death of numbing for my 3 crowns- I didn't even feel it! Dr. Leech is super gentle, he's also very humorous. My teeth feel amazing, finally.
I also recommend taking your kids here. Again, super gentle, accommodating, and punctual all adds up to a "fun" trip" to the dentist instead of a "bad" experience for children.
I wish Dr. Leech & Dr. Lee were my childhood dentist as I wouldn't have waited so long to fix my teeth because I would not be scared. 20 STARS!"
"Doctor Patel was so nice!!!! He explained everything I needed to have done. He was very professional and had the best demeanor. I felt very confident knowing he would take the best care of my teeth. I've been a nurse for 42 years and have worked with many physicians in my day and Dr. Patel and his office staff are truly a blessing!"
Don't Put Off Having A Beautiful, Healthy Smile Any Longer!