We're Ready To Help Improve Your Health and Confidence With Dental Implants
What are Dental Implants?
Dental implants are permanent anchors that integrate with the jawbone to provide secure, stable and long-lasting tooth replacement. Because dental implants become part of the jaw, they look and feel like natural teeth, allowing you to eat, talk and smile without worry.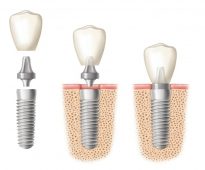 Why Triangle Family Dentistry?
Our doctors are experts at placing dental implants. Whether it's replacing a single tooth, multiple teeth or full upper and lower arches, you'll receive a world-class level of care and expertise when you choose Triangle Family Dentistry.
Are Dental Implants Right for Me?
To learn more about dental implants and to receive your personalized treatment plan, simply schedule your free consultation. It's the fastest, easiest way to find out how dental implants can improve your smile and quality of life.
3D CT Scans of your mouth and jawbone
Surgical removal of an unhealthy tooth or teeth and placement of implants
Bone grafts including sinus lifts, ridge augmentation and site preservation
Soft tissue grafts
Sedation administration by a CRNA
Design and creation of prosthetic teeth via our on-site CEREC technology
Guidance and support during the process, with financing available if needed
Schedule Your FREE Consultation, a $225 Value!
We want to make sure you have an opportunity to get ALL your questions answered about dental implants, the benefits they provide AND about the Triangle Family Dentistry Implant and Surgery Group.
We normally charge $225 for this consultation, but we want you to get learn about all the benefits of dental implants so we're willing to give it to you absolutely free!
Simply complete the form below and we'll be in touch shortly to schedule your no-risk, no-obligation appointment .

All-On-Four Implants
All-on-four implants are for patients who need to replace a full upper and/or lower set of teeth. Four implants are placed and then a full arch of teeth is attached.

Multiple Implants
Multiple implants are for patients who are missing more than one tooth, but still have healthy gums and surrounding teeth. Two fixtures are implanted and the crown is attached, leaving other natural teeth intact.
Discover the Many Benefits of Dental Implants from Triangle Family Dentistry
Everything Done Under One Roof
Our expert team works together under one roof to build your beautiful new smiles in a way that works for you. So no more going from doctor to doctor to get your beautiful, new smile!
Improve Your Diet and Health
Dental implants help improve your overall health. With a full set of healthy, functioning teeth, you no longer have to worry about avoiding certain foods or other issues caused by missing teeth.
Implants Prevent Bone Loss
Dental implants help maintain a more youthful appearance and boost confidence because of how they integrate with the jawbone. This integration provides a stimulus that keeps the jawbone from deteriorating.
A Lifetime of Beautiful Smiles
With long-term success rates over 95%, dental implants can last a lifetime when properly cared for. This makes them one of the best investments for long-term tooth replacement.
Compare Dental Implants to Other Tooth Replacement Options
| | | | | |
| --- | --- | --- | --- | --- |
| | Flipper | Dentures | Bridge | Implants |
| Longevity | 1-3 years | 5-7 years | 7-10 years | Lifetime |
| Preservation of Healthy Adjacent Teeth | Yes | Yes | No | Yes |
| Transmission of Force to | adjacent teeth | adj. teeth & gums | adjacent teeth | bone |
| Prevents Bone Loss | No | No | No | Yes |
| Periodic adjustments required | Yes | Yes | Yes | No |
| Accelerated loss of adjacent teeth | Yes | Yes | Yes | No |
Source: Premium Tooth Replacement , Deutsche Bank, January 26, 2006
Ready to make a change?
Schedule a free, no obligation consultation online today.